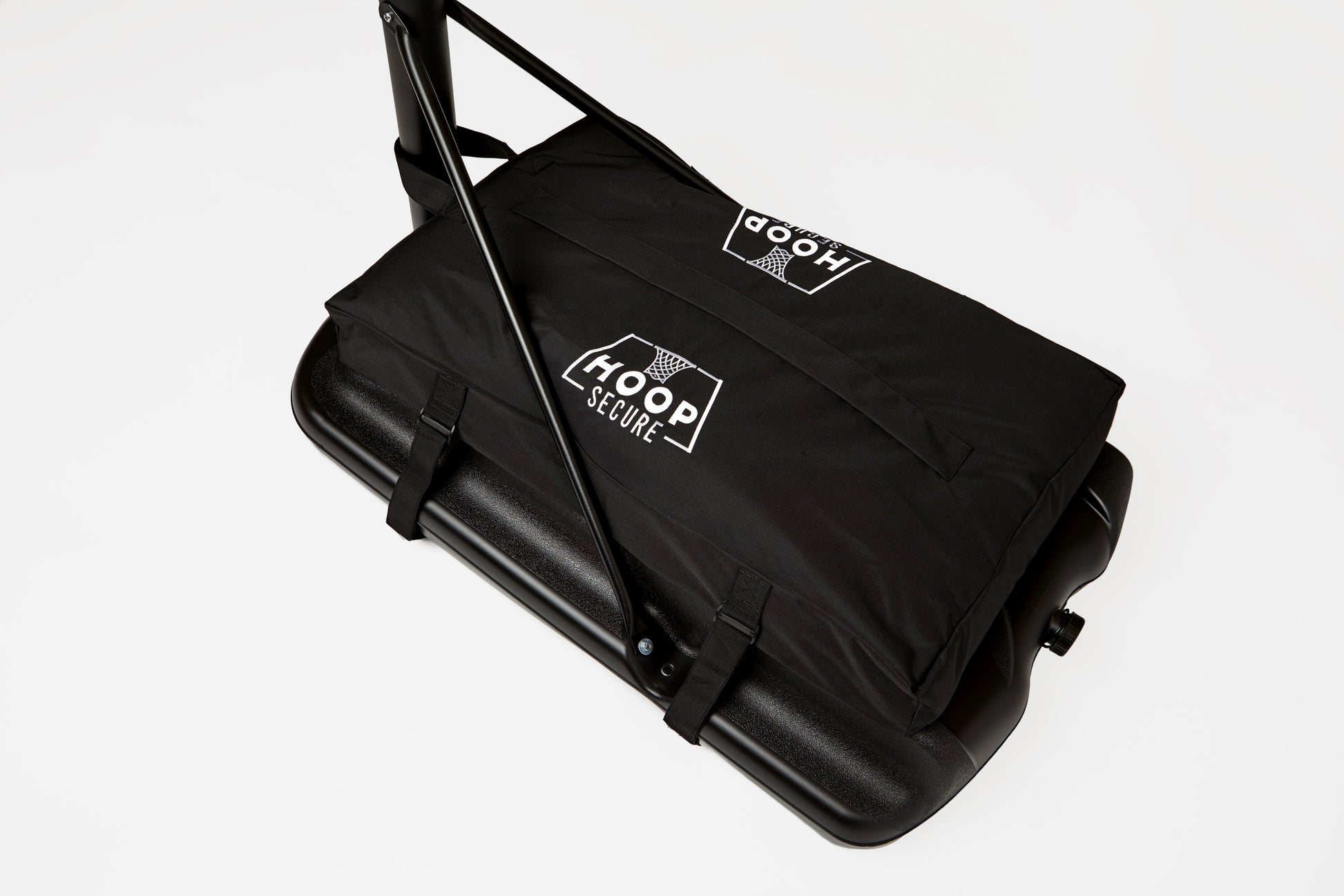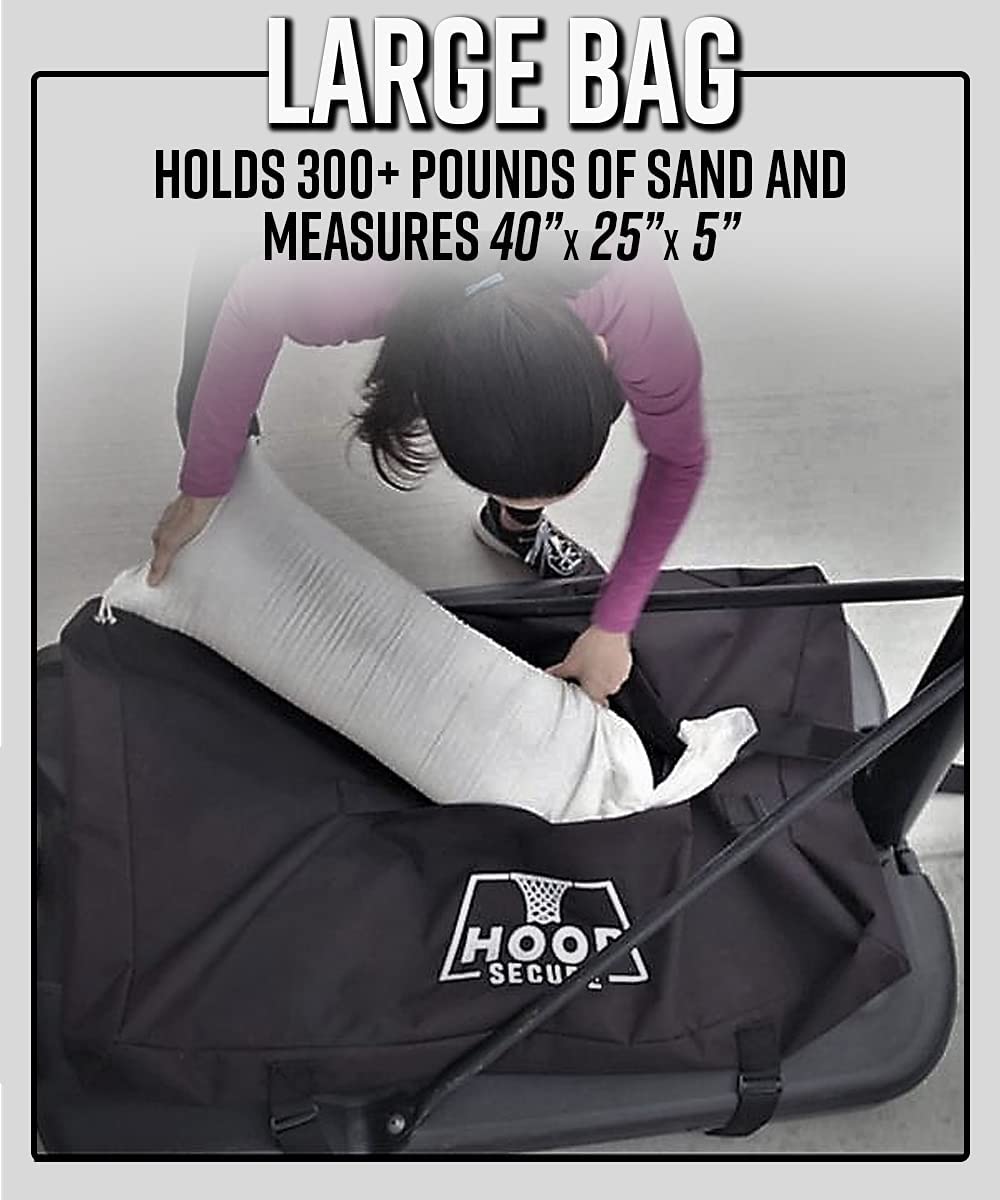 HOOP SECURE - Full Size/ Black / Twin Logo
Sale price
$69.99
Regular price
DIMENSIONS: 40L x 25W x 5H *inches* (please measure base for proper fit)
DIMENSIONS: 40L x 25W x 5H *inches* (please measure base for proper fit)
The Hoop Secure full size solution is designed to fit most bases.
Our patent pending solution can be filled with individual sandbags available at your local hardware store. 
- It can hold in excess of 300 lbs in sand bags. (Fits 50lb. & 60lb. sand bags)
- Hoop Secure is heavy duty and weather resistant, keeping the contents dry, allowing easy removal should you want to relocate the basketball hoop.
- Best of all it is HOA Friendly!
- The bag seamlessly blends into the base, securing with velcro straps around the portable base and around the neck.
- The bottom of the bag is designed with a non-slip weatherproof material to keep Hoops Secure in place. The weather-resistant zipper allows for easy loading and removal. 
Stop putting unsightly objects on your base leading to damage and mess. Choose Hoop Secure instead to keep you basketball hoop in place and looking great!
- Hoop Secure bag in black
- Warranty card
- Installation instructions
Free 2 Day Shipping
SHIPPING POLICY
We accept the following forms of payment:- Visa- Mastercard- American Express- Discover- PayPalYou agree to provide current, complete, and accurate purchase and account information for all purchases made via the Site. You further agree to promptly update account and payment information, including email address, payment method, and payment card expiration date, so that we can complete your transactions and contact you as needed. Sales tax will be added to the price of purchases as deemed required by us. We may change prices at any time. All payments shall be in U.S. dollars.You agree to pay all charges at the prices then in effect for your purchases and any applicable shipping fees, and you authorize us to charge your chosen payment provider for any such amounts upon placing your order. We reserve the right to correct any errors or mistakes in pricing, even if we have already requested or received payment.We reserve the right to refuse any order placed through the Site. We may, in our sole discretion, limit or cancel quantities purchased per person, per household, or per order. These restrictions may include orders placed by or under the same customer account, the same payment method, and/or orders that use the same billing or shipping address. We reserve the right to limit or prohibit orders that, in our sole judgment, appear to be placed by dealers, resellers, or distributors.
HOOP SECURE - Full Size/ Black / Twin Logo
Sale price
$69.99
Regular price
Faqs
What is Hoop Secure?
Hoop Secure is a patent-pending product that helps to secure your portable basketball hoop. It is a heavy-duty bag that can be filled with sandbags or other heavy materials to anchor down your hoop. Hoop Secure is designed to fit most standard full-size, portable basketball hoop bases.
What are the benefits of using Hoop Secure?
Hoop Secure offers a number of benefits, including:
It helps to prevent your basketball hoop from falling over, which can cause property damage and personal injury.
It is HOA-friendly, meaning that it meets the requirements of many homeowners associations.
It is weather-resistant so that you can leave it on your hoop all year round.
It is easy to install and remove.
It is affordable.
How do I use Hoop Secure?
To use Hoop Secure, simply fill the bag with sandbags or other heavy materials. Then, secure the bag around your hoop base using the velcro straps. That's it!
What is the weight capacity of Hoop Secure?
Hoop Secure can hold up to 300 pounds of weight.
What surfaces is Hoop Secure compatible with?
Hoop Secure is compatible with most standard full-size, portable basketball hoop bases. It can be used on concrete, asphalt, grass, and other hard surfaces.
Is Hoop Secure available in different sizes?
Yes, Hoop Secure is available in two sizes: full-size and small-size.
Where can I buy Hoop Secure?
Hoop Secure is available for purchase on the Hoop Secure website, Dicks Sporting Goods, Scheels and Amazon.
Do you offer a warranty on Hoop Secure?
Yes, Hoop Secure comes with a one-year warranty.
Do you have any other questions about Hoop Secure?
If you have any other questions about Hoop Secure, please contact us at [email protected] or (970) 852-0900.
We hope this FAQ has been helpful. Thank you for choosing Hoop Secure!
What Our Satisfied Customer Says..
"Hoop Secure has been a game-changer for us. We used to worry about our basketball hoop falling over during windy days, but now we can play without any concerns. The installation was easy and the product is very effective."
John D.
"I purchased Hoop Secure for my son's portable basketball hoop and it has exceeded my expectations. The product is well-made and provides great stability. I highly recommend it to anyone who owns a portable basketball hoop."
Sarah T.
"Living in Colorado means dealing with unpredictable weather conditions. Thanks to Hoop Secure, I don't have to worry about my basketball hoop falling over during strong winds or heavy rain. It's a must-have product for anyone who loves playing basketball outdoors."
Mark P.